2015 Early Bird Drawing
Congratulations to Todd Smith of Casadaga, NY, winner of the 2015 Early Bird Drawing. He won a Henry Lever Action 22 LR, with ticket #0870. There are still many more prizes to be awarded, so buy your ticket soon!
17th Annual Sportsman's Raffle
Saturday, February 7, 2015. 5pm-10pm.
Doors open at 3pm.
Rainbow Gardens (Waldameer Park) - Use West 8th Street Entrance.
Tickets are only $10 each, and admit 1 person to the event. Free Refreshments and Food. Prints by North American Gallery.
Tickets are available by calling the LER Office at 814-456-5300, or from any Winter Guard member.
By State Law, Rainbow Gardens is now a non-smoking facility.
ALL TICKETS ELIGIBLE FOR ALL DRAWINGS. Need not be present to win.
1. Must be 18 to purchase ticket, 17 and under must be accompanied by a parent/guardian.
2. Must be 21 to receive hand gun.
3. Must be 21 to consume beer.
4. Must provide driver's license for ID to pick up gun.
5. Must sign release to relieve Lake Erie Fanfare Inc. and EDCA of any liability.
Guns provided by Edinboro Outdoors, 211 Mill St, Edinboro, PA, 16421, 814-734-4927.
1. Browning A Bolt III 30-06
2. Remington 870 Express Laminate 12 Ga.
3. T/C Venture .270 Win
4. Henry Goldenboy Lever Action 22 LR
5. $100.00
6. Excalibur Axiom Crossbow Package
7. Remington 870 Express Laminate 20 Ga.
8. Ruger American .243 Win
9. T/C Impact 50 Cal inline
10. $200.00
11. Savage 93R17 RSS Stainless 17 HMR
12. Remington 770 Synthetic .270 W/Scope
13. Stoeger P350 Camo 12 Ga. 3.5"
14. Savage Axis XP .243 W/Scope
15. $300.00
16. Mossberg 500 20 Ga.
17. Marlin XT 22MR 22 mag
18. Savage 93R17 BTV 17 HMR
19. Stoeger P350 Synthetic 12 Ga. 3.5"
20. $400.00
21. T.C Venture 7 mm-08
22. Benelli Nova Synthetic 12 Ga. 3.5"
23. Savage 11 Trophy Hunter 30-06 W/Scope
24. Tri Star Hunter Ex 20 Ga. Over/Under
25. $500.00
Early Bird Prize — Henry Lever 22 LR
*All Cash prizes guaranteed at face value. IF the winning ticket owner is also present at the raffle during that CASH DRAWING, the amount will be DOUBLED! (must provide positive ID to claim double cash prize)
2014 Sportsman's Raffle Winners
Congratulations to the winners in the 2014 Sportsman's Raffle. Winning tickets are listed below. While we make every effort to ensure the accuracy of this list, Lake Erie Fanfare is not responsible for typographic errors on this website. For questions regarding official winners, please contact our office at (814) 456-5300.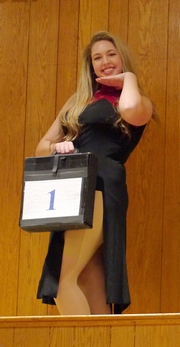 Main Ticket Winners
1. T. Davis (#0217)
2. T. Mason (#1666)
3. M. Dilimone (#0842)
4. D. Vallimont (#2387)
5. A. Rollinger (#1336)
6. K. Tobin (#1353)
7. J. Lafferty (#2079)
8. D. Constable (#0773)
9. S. Holmes (#1411)
10. J. Seward (#3096)
11. J. Wilson (#2740)
12. A. Baker (#1832)
13. E. Reib (#2123)

14. G. Mayes (#1863)
15. R. Seymour (#1082)
16. D. Sutton (#1970)
17. M. Hardner (#2968)
18. D. Carroll (#2359)
19. D. Samuelson (#2735)
20. J. Suleski (#3632)
21. J. Owen (#2090)
22. T. Walp (#0098)
23. D. Laidlaw (#0807)
24. B. Schreckengost (#0036)
25. B. Casey (#0796)
Other Winners
Early Bird: K. Widing
Ladies' Gun: K. Tobin
Seller's Gun: G. Matczak
Floor Drawing #1: J. Vanhoyweghen
Floor Drawing #2: M. Cilladi
Floor Drawing #3: J. Earley
Floor Drawing #4: R. Kimber
Floor Drawing #5: C. Weary
Floor Drawing #6: T. Hodas
Floor Drawing #7: C. Niklaus