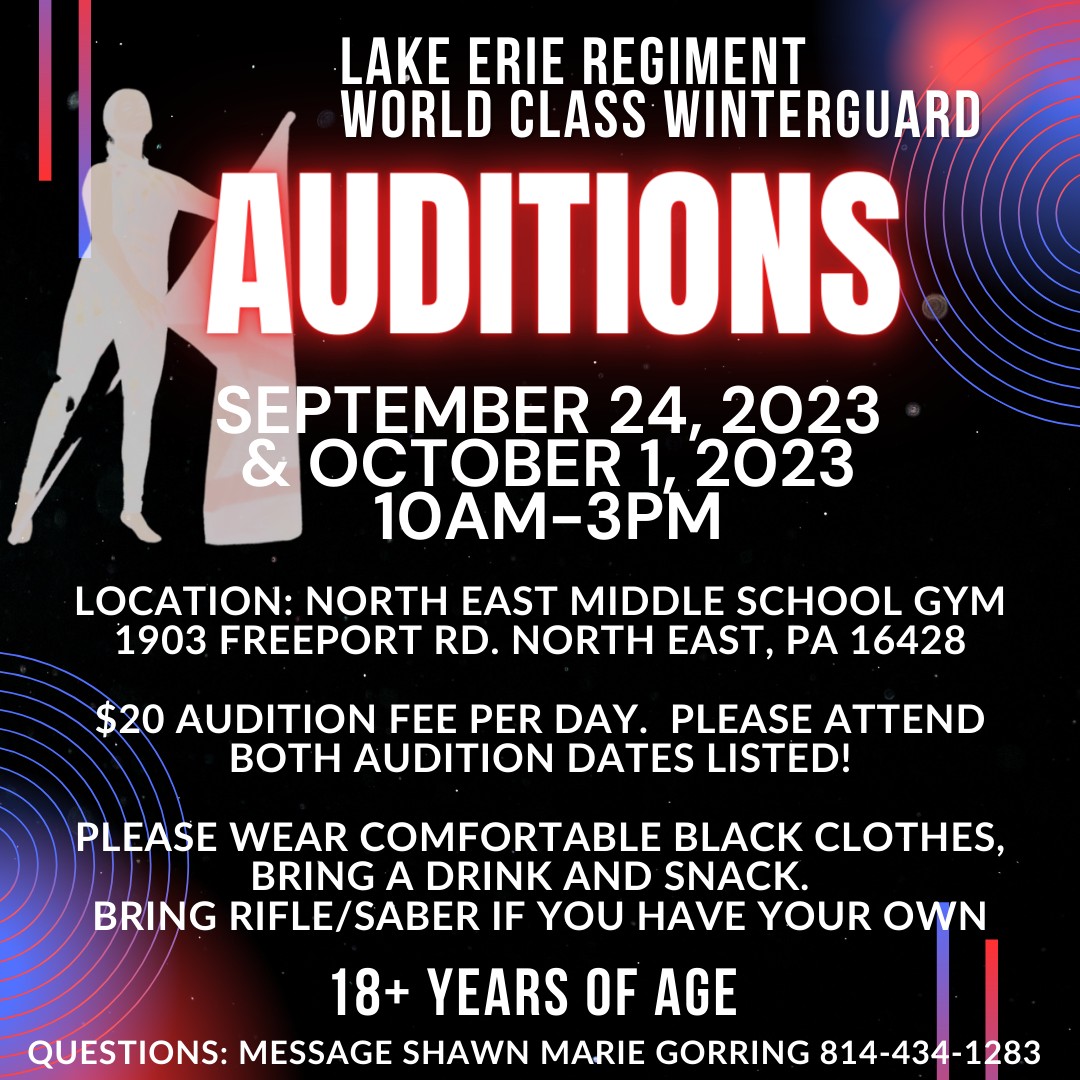 Dates: September 24, 2023 and October 1, 2023
Location: North East Middle School Gym, 1903 Freeport Rd, North East, PA 16428
$20 Audition Fee Per Day.  Please Attend BOTH Audition Dates Listed!
Please wear comfortable Black Clothes.  Bring a Drink and Snack.  Bring a rifle/saber if you have your own.
18+ Years of Age
Questions: Message Shawn Marie Gorring at 814-434-1283
James Gabonay has assumed the position of show designer for the Lake Erie Regiment Winter Guard for the 2024 season, premiering in world class.  James embarked on his journey as a performer at Norwin High School, later becoming a member of the Cavaliers Drum and Bugle Corps.  Since then, he has expanded to encompass roles as a designer and educator, with programs such as Spirit of Atlanta (2019-2021), Norwin High School (a 10-time WGI Scholastic World Finalist and the 2021 BOA Grand National AA Champion), Collage Winter Guard (a distinguished 2022 and 2023 WGI Ind. A Class Finalist), Gateway High School (a 2014 Scholastic A WGI Finalist), the Blue Knights Drum and Bugle Corps for the 2023 season and numerous others.
James achieved a dual degree in Social Studies Education and History from the University of Pittsburgh.  When not savoring moments with his faithful dog, Prince, James devotes himself as the proud proprietor of JDGDesigns.  James continually collaborates with various pageantry organizations nationwide.  The forthcoming period marks his eagerly anticipated foray into an exciting new chapter with Lake Erie!
Lake Erie Regiment's director, Shawn Marie Gorring, and staff are eager to start a new journey as we rejoin the World Class for the 2024 season.  As we enter our 26th season, we are excited about our show and the direction that it is heading.  We are also thrilled to welcome a new creative mind to our design team.
Interested?  Come on this journey with us!
Message the Regiment Facebook page or Shawn Marie Gorring
* Affordable Dues * Competing at WGI Regionals * Competing at WGI World Championships * Ohio Circuit * Pittsburgh Circuit * September Auditions *